Cómo Trabajan los Ángeles Asignados a los Hospitales
En los hospitales el velo entre los mundos es más tenue.
Muchos de los enfermos hacen su pasaje allí y otros son sanados en un proceso complejo.
Por eso hay asignados ángeles para trabajar en los hospitales, además de los ángeles de la guarda de las personas.
Porque cuando la gente está moribunda o enferma, hay muchas cosas por hacer.
Los ángeles deben consolar a las personas a que encuentren la paz, y ayudarles a cumplir el designio de Dios, que recuperen la salud o hagan el pasaje.
También hay una guerra espiritual en ellos.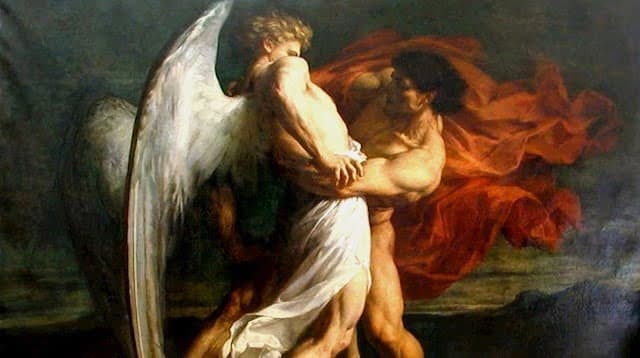 Y hay casos en que se han registrado su presencia en fotografías.
Hace un tiempo (2008) se produjo el video de seguridad que muestra una luz radiante que parecía angelical.
Y estuvo vinculada a la recuperación milagrosa de una joven que sufría lo que se creía que era neumonía mortal.
La ex enfermera Penny Sartori ha pasado más de veinte años trabajando en la UCI y ha realizado su tesis doctoral cuyas conclusiones están en el libro The Wisdom Of Near-Death Experiences.
Y ha dicho que, al margen que se trate de personas creyentes, agnósticas o ateas, todas ellas tienen el sueño o la visión de cómo su familiar se va de este mundo guiado por alguien.
Ya sea cónyuges ya fallecidos, seres anónimos o ángeles, y lo hacen con una clara sensación de "paz y amor".
Los angeles están entre nosotros en momentos cruciales
Como ABC News informó:
"Un par de meses antes de morir de un tumor cerebral inoperable, Ryan Reynolds de 10 años de edad, estaba en un picnic con la familia y amigos.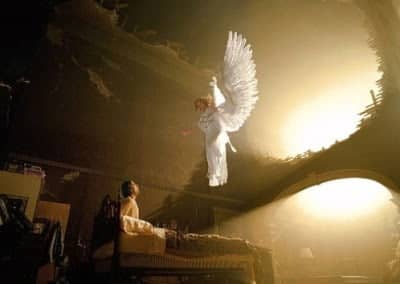 Cómo Trabajan los Ángeles Asignados a los Hospitales.
Y durante el paseo le dijo a su madre que podía ver a los ángeles. Esto no era inusual, ya que Ryan habló a menudo de los ángeles.
A los niños les encantan los ángeles: la belleza, las imágenes, el misterio, la seguridad y la protección.
Honestamente, no sabemos y entendemos mucho acerca de los ángeles que llevan una existencia tan diferente de nosotros.
Pero, asegurémonos de que nuestros hijos conozcan y comprendan la verdad acerca de quiénes son los ángeles y lo que hacen, para que no estén mal informados por la cultura popular.
Tentaciones causadas por el mal de este mundo por Su gloria y nuestro bien espiritual último.
Los ángeles NO son seres humanos fallecidos.
Podemos tener relaciones con nuestros seres queridos fallecidos que son SAINTS en el Cielo.
Siguen amándonos, orando por nosotros e incluso nos ayudan.
Se sabe que los santos se nos parecen, pero eso no los convierte en ángeles.
Un ángel es creado como un ángel.
Cuando las personas se refieren a los seres humanos fallecidos como ángeles, realmente significan que son como los ángeles ahora en el sentido de que viven como espíritus con Dios en el Cielo.
Los ángeles son espíritu puro.
No tienen cuerpo. Cuando los ángeles se aparecen a los seres humanos aparecen de maneras que sirven al propósito para el cual son enviados, a menudo en forma humana.
Las representaciones físicas de ángeles en el arte suelen ser simbólicas.
Las alas indican velocidad, ya que los ángeles no están limitados por el tiempo y el espacio, por lo que parecen moverse muy rápidamente.
También representa que han venido a nosotros desde el Cielo, en lo alto.
La Escritura a menudo describe a los ángeles como brillantes o blancos, refiriéndose al poder y la pureza del Cielo.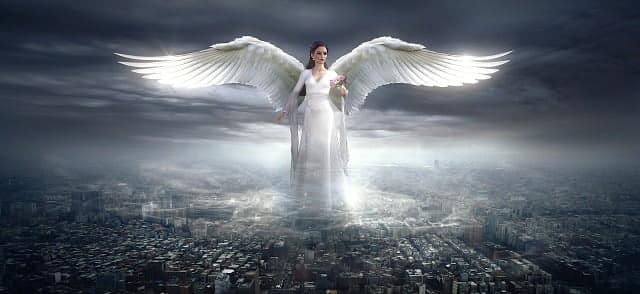 Los ángeles no se puntúan. Los ángeles no viven en el tiempo y el espacio como nosotros.
Su vida no es un proceso. Ven claramente el bien y el mal y eligen o rechazan a Dios.
Los ángeles eligen bien. Los que rechazan a Dios son demonios.
Cómo Trabajan los Ángeles Asignados a los Hospitales.
Los ángeles viven en el Cielo con Dios, pero también pueden estar presentes a nosotros cuando Dios nos manda.
Los ángeles nunca se apartarán de la voluntad de Dios, pero cuando les oremos pidiendo ayuda, Dios responderá a nuestras oraciones fieles.
Dios es muy generoso con nosotros. Nos permite ayudar a los ángeles a protegernos y guiarnos.
Todo lo que tenemos que hacer es preguntar y escuchar.
Los ángeles son mucho más poderosos, inteligentes y hermosos que nosotros.
Son seres innatamente más grandes que nosotros.
Pero en la sabiduría de Dios, al convertirnos en uno de nosotros a través de la Encarnación, nos ha hecho más grandes que estos seres superiores y a través de la Coronación de María ha hecho un ser humano Reina de los ángeles.
Una vez más, el último será el primero en el Reino de los Cielos.